On Passing of Professor Bill Clarke
21 Feb 2020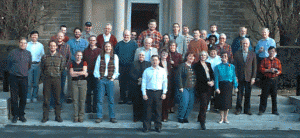 As some of you know, Professor Bill Clarke passed away suddenly in October last year. Professor Bill Clarke served as Interim Chair 2001-2002 and 2005-2006. At the time, the family requested privacy but agreed that we would have a comment about Bill's career in our spring newsletter. Some notes are forthcoming about Bill's long career with the Department. He was also involved in the publishing trade in the major Canadian firm Clarke, Irwin and Company.
A few remarks have already come in, but others are warmly welcome.
Prof Bill Clark is in the middle
From Wendy Freedman
Bill Clarke was the first professor that I had in astronomy and astrophysics during my first year at U of T. At that time, I had planned to major in biophysics. However, I enjoyed the course that Bill taught so much that I switched my major. It is quite possible that I would never have ended up in astronomy, if it were not for Bill.
From Cristine Clement
I remember Bill Clarke as an articulate person who was very interested in teaching students to communicate effectively. I think he ran workshops from time to time for graduate students.  With the undergraduates, he particularly enjoyed teaching the first-year seminar courses.
From Ernie Seaquist
Bill and I had been friends since we began graduate studies at Toronto in 1961 under the supervision of Don MacRae. We both were involved with the development of the radio astronomy program in the back field of the DDO.
Bill struck me as an ambitious and no-nonsense guy who was on a mission of achievement. When several of us took a course in stellar atmospheres from Lawrence Aller who was visiting Toronto, Bill came to the rescue of the class with his knowledge of main frame computing to save the entire class from the drudgery of building a model stellar atmosphere on electric calculating machines. Bill went on to UCLA after his master degree to do a PhD with Aller.
Bill subsequently returned to Toronto and accepted a faculty position here. However, ties to his family publishing business Clarke Irwin prevented him from taking on a full-time position here, and he focused his attention on teaching and administration. He was effective in both capacities, and a good listener, both to students and to fellow faculty before making decisions.
Bill and I became even greater friends after our retirement and we often rode together in his car to visit Don Fernie for coffee at his retirement home, together with other associates.
Bill did not seek high visibility during his career, but he was a valuable contributor and a dear friend. Many others and I will miss him dearly.
From Raymond Carlberg
Bill embodied "wise counsel". He also had a wonderful sense of humour which served both of us well in a couple of issues during his two terms as Interim Chair. Bill attended the inaugural Martin lecture and commented that he liked Professor Rees's emphasis that we were capable of solving the challenges that face us on earth.
From Bob Abraham
I remember Bill with such fondness. I had been wondering from time to time how he was enjoying his retirement and learning of his passing was such a shock. I remember that when Peter Martin was on sabbatical and he was Acting Chair, I came to him with outrageously late requests for things that were important to me, and not only did he not turf me out of his office in disgust, he dropped everything to intercede up the administrative food chain to get me out of holes I had dug for myself. ('Bill – Aaaaaa!  I just found out I need a signature from the Dean in the next 2 hours or I'm going to miss this application deadline! Help!). And he always sent such beautifully touching notes after the births of my kids. I always meant to ask him about his involvement in the publishing trade but somehow never managed that, and now it's too late. 🙁
From Hugh Zhao
Bill was my supervisor during his tenures early as the Chair of the Computing Committee and later as Interim Chair of the Department. I have fond memories of Bill being a no-nonsense and quick thinker. He was very supportive and even did some work for me. Aside from daily IT works, I have to do the tedious computing support charge-back calculations. At the beginning, I did the calculation by hand. Bill suggested that a spreadsheet would help. I told him at the moment that I was too busy to work on it. A couple of days later, Bill handed me a well designed spreadsheet.
After retirement, Bill and I still kept in touch. The last conversation I had with him was regarding UofT's decommission of Exchange server. He was concerned if it would affect his email account, and happy to learn that it would not.