Prof. Maria Drout named as CIFAR Global Scholar
06 Sep 2018
U of T Astronomer Maria Drout Wins 2018 CIFAR Azrieli Global Scholar Award
6 September 2018
[TORONTO] University of Toronto astronomer, Maria Drout, has received a prestigious 2018 Azrieli Global Scholar Award from the Canadian Institute for Advanced Research (CIFAR).
The award recognizes researchers from diverse fields in the early stages of their careers. Drout is one of 12 award winners in 2018 from Canada, the U.S., Israel, Singapore and the Netherlands.
"Young people are the future of research," says CIFAR President and CEO Alan Bernstein. "Their enthusiasm and energy leads to new ways of thinking that will advance science and create solutions for the challenges facing our world today."
"In addition to directly supporting young researchers in their early careers," says Drout, "the CIFAR Global Azrieli Scholar Program offers a truly unique opportunity to engage with peers across disciplines to try and develop novel solutions to challenges facing the world. I left our first meeting inspired by those around me and with renewed enthusiasm for our work. I'm thrilled to be named to the 2018 cohort of scholars."
Drout's research focuses on the lives and evolution of massive stars, as well as supernovas and other short-lived astronomical phenomena.
In 2017, she and her colleagues at Carnegie Observatories made astronomical history as the first observers to identify the visual component of an event—the merger of two neutron stars—that generated gravitational waves detected on Earth. The observation was part of the first ever astronomical investigation of a phenomenon using both light and gravitational waves.
Her subsequent analysis of the explosion that resulted from the merger, called a kilonova, provided evidence that most of the heavy elements in the Universe like gold and platinum were created in neutron star mergers.
Drout received her PhD from Harvard University and joined the University of Toronto as a Carnegie-Dunlap Fellow in 2016. She became an Assistant Professor in U of T's Department of Astronomy & Astrophysics on September 3rd 2018.
The CIFAR Azrieli Global Scholars program is enabled by the generous support of the Azrieli Foundation, the Love Family Leadership Development Fund, and many other individuals, corporations and foundations.
For the official CIFAR announcement, visit: https://www.cifar.ca/cifarnews/2018/09/06/announcing-the-2018-class-of-cifar-azrieli-global-scholars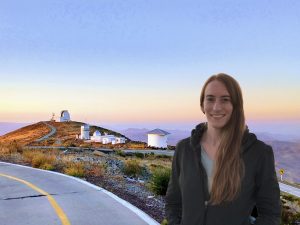 Image: Carnegie Observatories
CONTACT INFORMATION:
Prof. Maria Drout
Department of Astronomy & Astrophysics
University of Toronto
p: 416-978-2192
e: drout@astro.utoronto.ca
Kurt Kleiner
Director of Communication
CIFAR
p: 416-971-4257
e: kurt.kleiner@cifar.ca