Day 12, July 31, Basecamp
A rest day -- the only one before repeating the whole sequence again, and going all the way to the summit. The climbing situation has cleared up considerably. ``Team 1'' (Dan, Ellen, Angela, and Richard) is already poised at Camp II and moving up to Camp III today, carrying additional tentage, and will attempt the summit tomorrow. Today, ``Team 2,'' consisted of Jon, the deputy leader, Steve, Franck, and Olivier, will leave Basecamp later today. And, ``Team 3,'' led by the two Nepalis, with Patricia, Clint, Dahu and myself, will start up tomorrow. The remaining others have mostly not acclimatized well enough to make an attempt, and have more or less given up. Ironically, these include both the youngest and less experienced -- Joe, Andrew, and Alex; and also the oldest and more experienced -- the two retired seasoned Himalaya trekkers, Derek and Rod, both in their late fifties.
But still there is a lot of discussion back and forth. Tent space is the primary concern. With three teams so closely spaced, with some going up and some coming down, there is a good chance of a bad bottleneck, especially if weather or sickness intervenes. But the big argument is turning out to be amongst the Team 2 members. Jon and Olivier, feeling strong, want to move all the way to Camp II from Basecamp today, so that they would be one day behind Team 1. But both Steve and Franck do not feel up to the task, and think by doing so would only burn themselves out for the actual summit day. And for a while, neither side will budge on their decision, with the possible unhappy consequence that Jon and Olivier would go up on their own, and Steve and Franck join our Team. But that clearly will not work, as it would mean Team 3 having eight members -- too unwieldy and at the absolute limit of tent space availability, almost certain to cause a problem.
The other big discussion is whether Dahu should be allowed to join a summit attempt. Most of us have thought he put himself in great danger by continuing onto Camp II a couple of days ago. And some of us, including myself, worry very much about his lack of mountain sense, compounded by the communication problem. None of us want to find ourselves in a rescue situation. But Dahu indicates rather strongly that he wants to try the summit, and his friend, Jon, who has the sole authority (with Dan being on the way to Camp III, and out of radio range), refuses to deny Dahu's chance to try. In the end, we make up a set of rules under which Dahu is to attempt the summit; and that includes the Sherpas having the authority to turn him around.
By mid-morning, not liking the possibility of an eight-person summit attempt, I offer to mediate the differences between the two camps of Team 2. And it takes only a short time to convince Jon and Olivier that all in all, including improving their own chances, it is better to stay with the original one-day-per-camp itinerary, and stay two days behind Team 1.
So tomorrow, I will start on a what is hoped to be a four-day climb to the summit. Although I feel fairly recovered from the last trip to Camp II, a one-day rest seems rather inadequate. And I wonder if it is all too early. Summitting on August 4, day 16 according to this schedule, still seems too soon to me. At the beginning of the climb, I was hoping that I would make an attempt early enough so that there would be enough time within the 22 days to have a second try if the first one fails. And leaving for the summit push tomorrow is the latest start that would allow me to even contemplate a second try. It would require coming down only to Camp I to recover after the failed attempt, and with no rest, head all the way back up again. That seems like an impossible demand on my body and will-power. After having been up beyond Camp II, I realize that it will be almost certain that any summit attempt will take so much out of me that there will most likely be nothing left in me to want to try again. So, there will be only one try for me. And if that is the case, then the present schedule is not optimal, because it would be better if I have another rest day or more. And of course, none of this takes the weather as a variable into consideration. The weather has improved in the last few days after the wet stormy conditions that plagued most of the beginning of the expedition. The bad weather has at least been partly responsible for making the French expedition a dismal failure, with only two out of 14 barely making the summit just one day before they were to leave.
In the afternoon, I pack and repack, trying to figure out what is the minimum I need to carry, to be as ruthless as possible without endangering myself. How much food? How much extra food? How much fuel? Everything is looked at with a critical eye. Now that I have seen the upper part of the mountain, I decide that I will carry no climbing gear. The mountain is not steep enough, and the glacier appears to be very benign. I will be carrying what seems like a ridiculously small amount of food for 5, possibly 6, days, some of which is already sitting at Camps I and II. It amounts to per day: two granola bars, one chocolate bar, a few dry apricots, a handful of peanuts, a pouch each of hot chocolate and instant oatmeal, and one package of ramen noodles. To supplement the dinners of instant noodles, there is a couple of cups' worth of mashed-potato powder, three pouches of instant soup, and a few ounces of my favourite Chinese beef jerky which I use as a treat when all else fails to give me an appetite.

Day 13, August 1, Camp I
It has taken me three hours and 35 minutes with a moderately heavy pack to come back up to Camp I, a whole hour faster than last time. For the first time I feel a glimmer of hope that I might make the summit. Dahu, as if to prove we were wrong in showing concerns for his performance, climbs up to Camp I keeping pace with the Sherpas. But Patricia seems to have slowed considerably. On the advice of the Sherpas she had taken some Diamox the night before to help improve her acclimatization. But she evidently reacted badly to it and did not have a good night of sleep at Basecamp. It seemed like bad advice to me. I thought she was acclimatizing at a rate similar to mine, and was climbing faster than me two days ago above Camp II.
I try to force myself to eat as much as possible for dinner. I know my food intake will slowly diminish at higher altitude. It will be a situation in which energy output can be as high as four to five thousand calories a day, while intake is less than a thousand.
After dinner, I go out of my tent to catch the splendor of the sunset over the mountains of Tdajikastan. And much to my chagrin, my 20-year-old Pentax camera refuses to work, its mirror stuck in the open position. I tinker with it for a long time in my tent without being able to revive it (which I had done a couple of times already this trip). After all these years of rough usage, including tumbling down mountain sides, being choked by dust from endless dirt roads, bouncing along on thousands of miles of bus and truck rides, it finally has the last laugh. There is nothing to do. I decide to carry it at least to Camp II, and if it still insists on not working by then, I will leave it there and continue the climb without a camera.

Day 14, August 2, Camp II
Alex, the gruff and loud Kiwi from the Adventure Consultants group, came over from his tent in the morning to borrow my Swiss Army knife and to wish me luck on the climb. He told me that it was very unlikely that their group would make it to the top. He was not acclimatizing well. The other three trying to establish Camp III higher up today were not either.
Camp I is now virtually a tent city. There are four expeditions there, with the Japanese and the Spanish being the largest. Earlier a group of about six Japanese started up the mountain above Camp I. They climbed up the slope in a tight formation with only a few feet separating each other, connected by a rope. It was a very strange sight to us as they moved in locked steps as if in a military march, totally in contrast with our willy-nilly style of spreading all over the mountain.
The climb back to Camp II does not seem any easier than the last time. And my optimism of yesterday sinks as I trudge on. Just before the icefall, we meet the lone Manaslu Japanese climber coming down. He had made the top yesterday, alone. With his broken English and hand gestures, he tells us that the climb was easy, and the biggest problem was cold.
On the steep slope beyond the icefall we see Angela, with skis strapped on her backpack. We greet her warmly and eagerly ask for news of the Team 1 summit attempt. She didn't make the peak. The four of them started out for the summit early yesterday, but less than halfway, they felt their feet and hands were getting too cold, and decided to turn back. Dan, Ellen, and Richard stayed in Camp III and are making their second attempt now, starting later in the day, hoping to climb in slightly warmer temperatures. She felt that she had enough of the big mountain, and left Camp III yesterday. The game is over for her. I had read that, in the 1930s, the two top British mountaineers, Eric Shipton and Bill Tillman, were turned back from their attempt at first ascent 500 feet from the summit due to severe cold; and now with two successive reports of cold temperatures, I begin to feel that the game is probably up for me too.
I reach Camp II only half an hour faster than last time. I do not consider that to be a good sign -- there is so much thinner air ahead. But Dahu got there in good time ahead of everyone else. Perhaps we were wrong on judging his previous performance.
Quite a bit of snow had fallen since I was last here two days ago. I dig out the snowshoes and the bag of supplies that I had stowed here three days ago and proceed to organize melting snow for water, dinner and the night. Team 2, as expected, had left early this morning for Camp III. We are a little concerned that there would be a traffic jam at Camp III if Team 1, having stayed an extra day, did not want to, or prepare to, as one might expect, come down to Camp II directly from a summit bid. Sure enough, in late afternoon we see a few dots high up on the mountain above Camp II, coming down.
Ellen arrives first, poking her head into my tent and asks ``Is there room at the Inn?'' She and Dan made the peak, in just a bit over five hours. Richard turned back not long after starting. After the summit climb, they were too tired to come all the way back to Camp II, and had already settled into the two tents at Camp III, when Team 2 showed up. And under the circumstances, they had no choice but to evacuate the tents and come down to II. Ellen was very unhappy with Team 2. They did not carry up a tent as instructed by Dan a few days ago. She also tells me that Richard was on the verge of total exhaustion, and hopes that he will make it here before dark, as he is not on skis. In a few minutes, with the sun low on the western sky, Dan swoops in on skis. He intends to continue down all the way to Basecamp, only stopping for a brief conversation and to take some water from us. ``I will make dinner,'' he says, and disappears over the lip and down the steep slope. It is already 6p.m..
I suppose if anyone could do this -- climb Muztagh Ata and then descend all the way to Basecamp in one day -- it would be him. Of all the members in the expedition, Dan and Ellen can be considered as elite athletes; so, it was fitting that they summitted first. Dan has these legendary ascents of 8000m peaks to his credit, including a 36-hour continuous ascent of K2, a testimony to his incredible stamina and strength. Ellen, who has earlier in the year given up her job as manager of a health food store in Vail, Colorado, is a high-altitude marathoner. I did not even know such a sporting event existed until I met her. A high-altitude marathon is a marathon that is run entirely above the elevation of 10,000 ft. And a few months before Muztagh Ata, she had climbed Denali (McKinley) in Alaska, and run an high-altitude marathon in Italy, and is planning later in the year to climb Argentina's Aconcagua, at 6900m, the highest peak in the Western Hemisphere.
We watch anxiously with my little binocular for signs of Richard above us as the sun sets. He staggers in just after sunset, looking completely exhausted. The daily 8p.m. radio call crackles in the other tent, and we learn that Dan made the mess tent right at 8p.m., just before it got completely dark, and dinner was cold.

Day 15, August 3, Camp III
Again, we didn't start off early enough. In the morning Ellen offered me her thermarest when she learned that mine had a slow leak. She also gave me the insulating pouch for her water bottle after I mentioned that I was worried about water freezing during the summit attempt. I remembered when I climbed Huascaran 15 years ago, on summit day my water bottle froze into solid ice; I did not have a single drop to drink during the second half of the summit climb. She then offered me her supergaiters, saying that everyone so far had complained about cold feet. These I declined. I thought my boots would be warm enough, and I did not want to have to deal with an unfamiliar piece of equipment at high altitude.
It is an incredibly long haul to Camp III at almost 6900 metre. We put Camp III higher than the other expeditions to make the summit bid easier and safer, but clearly pay for it in the longer climb from Camp II to III. At first I have the impression that I am going very well, as I compare landmarks with the last time climbing up through here, thinking that I am well ahead of the ascent rate of last time, despite carrying a fairly heavy pack of close to 20kg. In the bright sunshine I feel good despite the constant gasping for breath. My thoughts circle around Skylar, my little niece who was born just one week before I left -- that feather lightness of warmth. I become infused with optimism -- the importance of peaking at the right time.
Dahu, who started out first, is sitting on the snow an hour out of Camp II. He tells me he's had it, he is turning back. I do not understand why he crashed so suddenly. The Sherpas have gone ahead of me, but Patricia again is lagging worrisomely.
But my optimism wanes and my revelry is broken soon after. I must have been confused by ambiguous landmarks on this continuous, almost featureless, white slope. When I finally reach the distinct little flat space where I stopped the last time, I find I am not any faster. I see Gary Cotter of Adventure Consultants and one of his clients sitting there with their skis and eating some snacks. I ask them: ``On the way down or up?'' Gary replies that they are on the way down, abandoning the climb. They have not acclimatized well. They camped even lower than the French Camp III last night, putting them over a 1000 metres away from the peak; and realized there was no chance for them to summit. I move on, and in the distance the third member of their group is coming down toward me to join his friends. It is Kurt, the stocky Texan, in his yellow Gore-Tex. He is not using his skis, which are strapped to his pack. I say ``Hi'' to him as he passes and turn around to see him continuing toward his group and Patricia, about 50m beyond, talking to Gary.
That scene, in the glaring, blinding light of the high-altitude, midday sun, is burned into my mind.
Along with the optimism, the sun soon also disappears. We are now climbing in fast blowing drifting clouds, with occasional horizontal snow squalls. It gets very chilly whenever the sun is blocked by the mist and fog. We have no real idea where exactly Camp III is located, how much further. We follow the wands and the trail of footsteps on the snow, one step, two breaths, at a time. I have had a vague expectation that Camp III should be about four hours after that last flat spot. The only real landmark that would give us some idea is the abandoned French Camp III, which, according to Jon, should be about one to two hours below our Camp III. The occasional whiteout removes the last of the prominent sensory inputs -- the edge of the slope to our left, and Mt Kongur to the northwest -- and in a hypoxic state I feel like a robot. We get to an abandoned camp site -- one circular flattened area of snow. But that is only the New Zealander's site. By the time we reach the bigger remnants of the French Camp III site, it is well past 4p.m., a time by which I have thought we should have reached Camp III.
The pace of everyone has slowed, and the weather is getting darker and colder. We continue in a stupor up the never ending slope. I begin to wonder if we can make it to Camp III before sunset, and whether we should consider picking a place and pitching the two tents that the Sherpas are carrying. Out in the fog we hear the sloshing of skis ahead, and Jon pulls in beside us. Yes, all four of Team 2 made the summit today. Olivier, just behind, and Jon, are descending to Camp II, while Steve and Franck, being too exhausted, elected to stay and descend tomorrow. Somewhat disheartenly, Jon estimates two hours or more from where we are to Camp III, and also suggests that we might want to consider setting up for the night when we find a flat enough place. But Kaji and Phurba think it would be better if we move on and try to get to Camp III.
By now, we are continuously in low fog and a blowing blizzard. Six p.m. passes, then 7p.m. -- no Camp III. The darkening sky and blowing snow make things look very ominous and gloomy. Both Patricia and I are near the end of our strength.
Then, I spot a blue dot in the distance, as the clouds part momentarily. It takes what seems like an eternity to finally plow through that last slope to Camp III. Franck and Steve stick their heads out of the tent to greet us, and I am still coherent enough to congratulate them on their summit. Next to their tent is Richard's snow board. Richard had carried his snow board all the way up, hoping to make the world's highest snow board descent. He left it up at Camp III, hoping for another attempt later.
God bless Kaji and Phurba, who, arriving 20 minutes ahead of us, have already erected one of the tents they brought up and are busy leveling a platform for the second. They tell me to just crawl in one of them and start dinner before it gets completely dark.
It has taken a grueling nine hours almost nonstop to climb those 900m, most of it in bad weather. But here I am, at 6900m, well above my previous altitude record. I am too exhausted to eat, but I also know that I have to eat something -- or at least convince myself mentally that I have had dinner -- before going to sleep.
In the rapidly falling light at 6900m, everything becomes a chore. I do not have the will power to force myself to cook the ramen noodles, and so decide to simply pour some hot water into half a small cup of mashed potato powder, mixing in some beef jerky. It is totally unplatable. I end the little half cup ``dinner'' with a couple of mouthful of peanuts, for ``dessert,'' something that I should have eaten during the day.
I have the Bibler tent to myself. There is a lot of advantage in having a tent to oneself. These high-altitude tents are small so as to save weight. When it is crowded, it is a difficult, and sometimes comical, task to maneuver in the tent, trying to put all that heavy clothing on, or melt snow from the hanging stove. Having one's own tent cuts down significantly on the preparation time. Dressing up to start climbing in the morning takes over an hour at times, as neither the body nor the mind is working properly. Putting boots and crampons on are probably two of the most dreaded tasks, leaving one completely out of breath and with frozen feet and fingers. But there are also disadvantages to not sharing a tent, the biggest being the lack of body heat produced by the other person. I have brought a very light (relatively speaking) sleeping bag for this expedition, and have worried about being cold sleeping at these altitudes. The idea is to use all my available clothing in addition to the sleeping bag to keep me warm -- apparently now the ``approved'' method for lightweight high-altitude climbing. So I go to sleep wearing all the lighter clothes, placing the heavy down parka on top of the sleeping bag, and putting all the outerwear -- all the Gore-Tex clothing -- beneath the sleeping bag to add insulation from the icy ground. At altitude, the game of how little one can get away with carrying becomes constant. It is difficult enough to move without having to carry what may be dead weight. But at the same time, there is little margin for not having the right equipment, and enough clothing, food, fuel, and water. And the risk calculation is always being made, even if the mind isn't working very well.
Just before it gets completely dark, I steel myself to go out of my tent to fill up a large plastic bag with snow for melting water for tonight and tomorrow.
I put the plastic bag on the snowy ground and started scooping up snow with both of my hands and dumping it into the bag. It takes a few minutes to fill the bag; and just as the bag is about full, I look down at my hands. I realize I have no gloves on, and small whitish patches along my fingers and palms appear to be forming. I was too hypoxic to realize I have been scooping snow with my bare hand -- the cold and pain did not register until I looked at my hands. The discoloration makes me panic a little, thinking perhaps I have frozen something. I immediately opened the zipper of my parka, and stick my hands into my armpits to warm them. Later, I come to understand why in pictures of climbers who have frozen to death, their jackets are often open. It had always puzzled me why stranded climbers would open their jacket instead of doing everything to keep the elements out. They, as a reflex, must have tried to warm their hands, whether due to the accidental loss of their gloves, or the hands being too cold even when they were in gloves.

Day 16, August 4, Camp III
The night was long. It was the first time I have slept at such high altitude. At 6900m, the oxygen level is down to less than 50% of sea level. But other than lethargy, I do not feel particularly terrible. I slept, if one could call it, in a continuous state of repeated non-sensical, unsettling dreams induced by high altitude.
Morning comes, and no one has moved. We are all too tired. The climb from Camp II to III, the longest on the whole route, has taken its toll.
Phurba is not feeling well. Ironically, he is having stomach problems, something expected of us Westerners, not the hardy locals from the Himalayas. Time ticks by, and it becomes clear that a summit bid today would be unlikely. We finally start discussing our options across the tent around 10a.m.. The Sherpas feel we should rest today and try the summit tomorrow -- Phurba is sick, and we are too tired, and in any case, it's getting too late to get started safely. But Clint wants to give it a try. After more indecisive discussions, I finally reluctantly tell Clint that I would start off with him to break trail on the fresh snow for him if he really wants to go, but it is almost certain that I will not go to the summit. It is too late for me to try the summit. Steve had told me that it had taken five and a half to seven hours to reach the summit; starting this late is not a feasible time for my speed. And with the Nepali not wanting to go, I also feel we have too small a safety margin.
Just before 11a.m. I am all suited up and start up the mountain again. With the new snow last night, I am using snowshoes for the first time in the climb. These are relatively small, lightweight, plastic models with metal claws, optimally designed for mountaineering. I say goodbye to Franck and Steve, who are readying themselves for the descent back to Basecamp after their summit climb yesterday. Franck tells me that inside the tent it is --4 deg C, and it was --12 deg C earlier before they unzipped their sleeping bags to let the body warmth out.
The four tents of Camp III recede painfully slowly below me as I kick steps up the slope. It is, as usual, a real struggle to get going for the first few minutes. A sense of panic, no air, the heart jumping too fast. And it takes 10 to 20 minutes for the body to learn the rhythm again; now one step, two to four breaths, depending on the steepness.
I am not feeling great. Very soon it is evident that my stomach is not happy. My breakfast appears to be just sitting there, refusing to be digested. Not having any appetite, I had a fairly light breakfast: a hot chocolate, a pouch of instant oatmeal (which I hate with a passion), and a granola bar. My body appears not to be able to do the three simple tasks I am asking of it: lifting one foot after another, breathe, and digest. I realize, tomorrow I will have to eat even less for the summit attempt, if there is to be one.
Clint starts about 20 minutes after me. And a few minutes later, I am slightly surprised to look down and see Kaji and Patricia also on their way. But Patricia is moving very slowly; she does not seem to be well. Now the only game I am playing in my mind is to see how long it will take for Clint to overtake me. He accomplishes that about an hour after his start. But not having to break steps does not seem to make things easier for me. My stomach continues to bother me -- feeling like there is a chunk of lead sitting in it. Finally, I decide this is it. I should go back and conserve my energy for tomorrow. I yell out to Clint, who is about 50 metres ahead of me, that I am turning back. But in the high wind, he is not able to hear me and does not look back. I wave down to Patricia and Kaji that I am coming back down. I can almost see their relief in the distance, as they quickly also turn around.
The rest of the day we spend in a lethargic state. I try not to sleep, believing that sleeping when not necessary is less useful for acclimatization, as the body forgets to breath and continues to build up a larger oxygen debt. Instead, I try to spend most of my time paying attention to my breathing, almost in a meditative state, to attempt to draw in as much oxygen as possible with each breath. Ever since the first time I have been to high altitude, I have noticed that deliberate deep breathing clears the mind, and improves vision and my ability to focus my eyes.
Around 4p.m., I crawl into Patricia's tent to have tea, and to prevent both of us from sleeping too much. We are getting a bit worried about Clint. Was he going fast enough to make it to the summit and back in daylight? Traveling alone at such high altitude and starting so late, he has little or no safety margin. The weather also has turned in the afternoon; clouds rolled in, capping the mountain, and it has been snowing on and off. It all of a sudden seems to us that maybe his decision to go was all a folly, and that we erred in letting him go. Even if he were to take five hours to the top, and two hours to descend, we should not be expecting him until after 6p.m. at the earliest. But we open the tent flap and look up the mountain once in a while anyway.
Then sometime after 6p.m., we hear Clint. As he gets to the tent, he excitedly tells us that he made it. Yes, he was in whiteout conditions along the way, and navigated by the wands left along the route by others, trying to avoid the cliff edge to the left. It was a very unsettling experience, but he kept going, pushed on by adrenalin, and was greatly relieved and happy when he finally reached the rocky outcrop that was the summit. He reached the summit in a very good time of just under five hours.
Night two at 6900m. I didn't eat much again for dinner. It is now three days with very little food intake. All the water bottles are filled, the pack packed, and we hope to start off at a reasonable time tomorrow.
Another minor mishap -- I spill most of a litre of water onto my sleeping bag and sleeping pad as I try to get a last drink just before I settle down to sleep. Luckily my sleeping bag is Gore-Tex, which prevents the down from being soaked. Soon the puddles of water turn into ice. I put the pair of wet socks into the sleeping bag, hoping my body heat will dry them by tomorrow.

Day 17, August 5, Summit Day
I cut down my breakfast by skipping the oatmeal. I have with me one litre of water with some orange powder. Although I have some peanuts and two granola bars in my pack, I know it is unlikely that I will eat them during the summit climb. The orange drink will probably be my only source of energy till I come back to Camp III. The weather appears to be good. And at around 9:30a.m., still rather late by most standards, but much earlier than yesterday, the four of us start up the mountain. Phurba appears to have recovered from his stomach problems, and Patricia is also feeling better. It's 650m to the top, with a light pack.
And so one more time, the shock to the body, and the game of counting steps and breaths. And this time, my stomach is not complaining. The sun and the snow are bright, and the sky is a dark navy.
We are well above 7000m now, and climbing with an atmosphere equivalent to about 45% sea level. Everest (about 1300m higher than Muztagh Ata) has a partial pressure of about one-third sea level. When supplemental oxygen is used (usually only for peaks higher than 8000m), the flow rate is typically set to the equivalent of about 7500m, about the same as what we are experiencing now. The reasons for setting the oxygen level to such a high altitude are two-fold: so that the number of oxygen cylinders one carries is manageable, and in the case when oxygen runs out, which evidently happens often, the body does not go into a severe shock from too drastic a change. We have no oxygen, not even an emergency bottle at Camp III.
The lack of oxygen is becoming more apparent as I progress. I now slow to three or four breaths per step. There is no question of sitting down to rest. The will and energy to stand up again to continue may not be there. I rest by leaning on my ice axe, and only allow myself to do so after the mandatory number of steps, be it 10, 20, or 25. There are only two things to concentrate on: breathing as deeply as possible, and lifting one foot at a time. After a while, it seems one settles into a serene state of mindless repetition. The wind, the glare of the sun and ice, the blowing snowdrifts, the crunching beneath one's feet, the sound of heavy but controlled breathing. The mind numbs to all this, as if it would go on forever. I see the silhouettes of Kaji and Phurba against the skyline ahead of me; and I simply keep that in sight and follow it.
Occasionally I drift. My mind seems to go into a stupor or even black out for a short time, and I find myself either in mid-step with a gap in my immediate memory, or find myself standing leaning on my ice axe, and momentarily forget where I am and what I am doing,
I climb the gentle slope of ice and snow alone, Kaji and Phurba 100m ahead of me, and Patricia 100m behind me. We are now high enough to be partially in a cloud cap. Visibility decreases to nothing when the wind blows a white-out fog across the slope. It turns cold very quickly. I am wearing all the clothes I have, and can feel the bone-chilling wind whenever the sun is blocked. In my feeble mind, I try to gauge whether I am close to the summit by seeing how much the ridge has flattened. I know that near the top, the mountain is almost as flat as a football field.
Far away, I see Kaji and Phurba no longer moving. Perhaps they are calling a rest stop? They seem to be standing on some yellowish rock outcrop, going in and out of view in the blowing mist. It takes me what seems to be a very long time before I approach where they are. They wave at me, and when I reach them, they give me big hugs and handshakes, and tell me that I have made it. It has taken a bit over five hours.
So this is the summit. A little rock outcrop, the only rock I have seen since leaving Camp I. There is a bundle of wands marking it. There is no view, we are completely enveloped in cloud, a cold snowy cloud. It is, well, anti-climatic. And I have always known exactly how I would feel. Relief. Greatly relieved.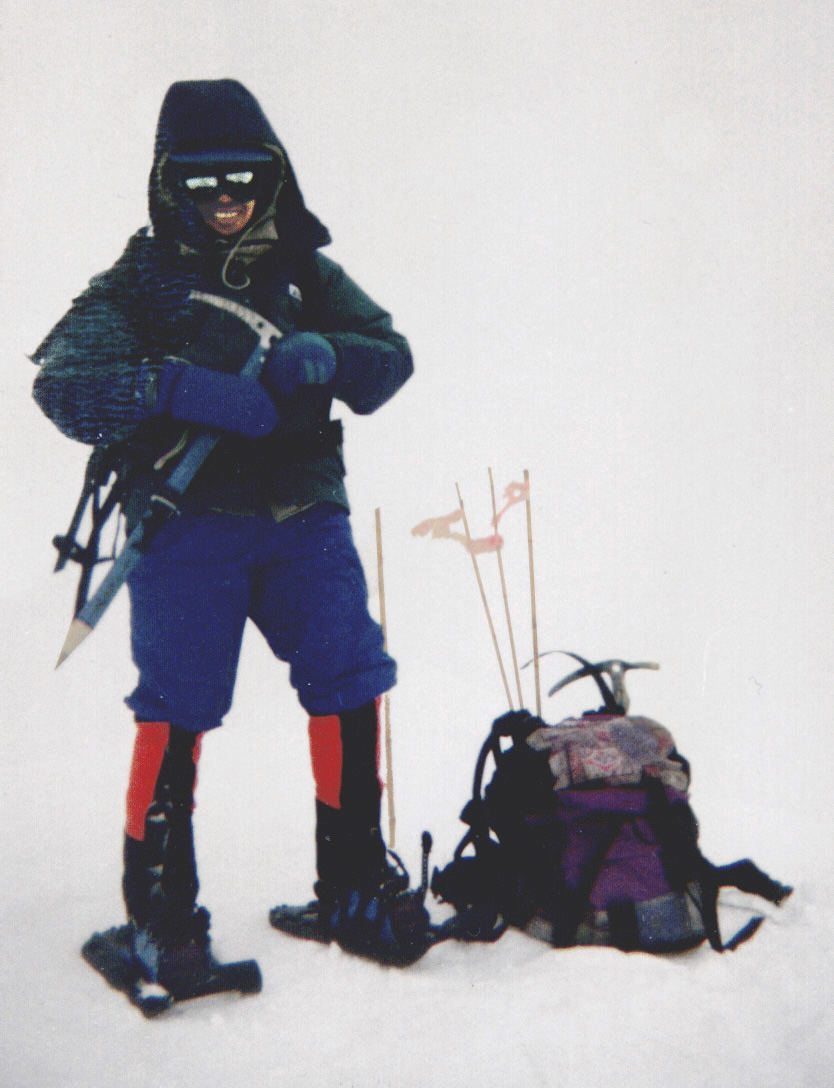 On the summit of Muztagh Ata in a white-out blizzard.
The only thing I can see other than the blanketing clouds is the dark shape of Patricia in the distance moving agonizingly slowly toward us. The wind is howling; we need to shout to talk to each other. I am almost glad that I do not have a camera. Phurba takes out his Kodak Instamatic and asks me to pose. Finally Patricia gets to the rock outcrop. I can see her beaming smile, the only visible part on her face. She quickly takes a few pictures of us and herself on the summit. And we head down -- it is too bitterly cold, windy and cloudy to stay any longer.
I remember the 6600m summit of Huascaran Norte in Peru 15 years ago. It was clear, but also bitterly windy -- gale-force winds that I could barely able to stand up against. I stared down to the distant hazy brown plain of the Peruvian altiplano with a barely working mind. Now all I have is whiteness.
As I leave the summit, I notice one of my outer mittens has blown away in the wind. I have a three-glove system; but the third is a pair of very light gloves. So, the redundancy has proven to be crucial. I have tied my middle mittens, the warmest of the three, to my parka sleeves with parachute cords before I started, and I am now glad that I have done that, so that the probability of losing that all-important pair is minimal.
The downhill trek is not as easy as I have anticipated. The accumulation of snow has made the slope more treacherous, and even with snowshoes, I stumble now and then. I now also realize that on the new snow, my ice axe is almost useless in helping with balance, as it sinks rather deep into the snow, giving me little or no support.
I lag farther and farther behind, and stumble into camp about 4p.m.. Patricia is already in her tent, and yells out to me: ``Should we continue down to Camp II?'' I am too tired to even contemplate that. There are about three and a half hours of daylight left, and the descent to Camp II is much longer than that from the summit. With packing time and tiredness factored in, I doubt that we could reach Camp II without risking darkness. Without too much thought, I answer: ``I am too tired, and I think it is too late.'' Patricia has hoped to continue down, but there is no question of applying any pressure to anyone to do so; Kaji and Phurba have left the decision to us. She has been saying how she is uncomfortable with having to spend so much time above 6500m. She has read that above this one's brain begins to suffer irrecoverable damage. And now we are spending our third night at 6900m.
I crawl into my tent, and see that someone has opened my little sketchbook on top of my sleeping bag. I wonder who has done that. I tell myself: perhaps Kaji or Phurba was curious about what I have written or drawn and took a look when for some reason they needed to get into my tent before I got back. I carry the little sketchbook up here not to draw, but to use as a journal, as it is lighter than the regular journal notebook that I have been using. I have wanted to write at these altitudes to see if later it would give me some interesting insights on how my brain was functioning in such thin air. But writing is indeed difficult, not so much the act of writing itself, but with the general lethargy -- there simply is little incentive to do anything that is not absolutely necessary for survival. But I have managed to force myself to write a few lines a day.
After an hour of rest, I go into Patricia's tent to brew up some liquid, and make an attempt at dinner, hoping that with encouragement from each other, we would be able to eat something. The climb is not over until we get back to Basecamp; we still need to try to get some energy for the down-climb tomorrow. We can barely believe that we have been to the top and back. But still eating has not become any easier; and for the fourth night in a row, I have my little half a cup of instant mashed potatoes for dinner.
The snow is coming down harder and harder in the fading light as I drag myself back to my tent to settle for the night. I pick up my sketchbook to put it away, but notice that the top of the open page says: ``Howard''. Why have I written my own name on the page? I wonder. Suddenly I realize it is not my own writing that I am looking at. The book is opened at a page where someone has scrawled a message to me in barely legible handwriting:
``Aug. 05, ~~~ Hi Howard, Sorry to intrude but this is very important...''
I have missed this message all these hours.
`` One of the New Zealanders fell into a crevasse and disappeared.''
Kurt, for some reason, I know it was Kurt even though no name is mentioned. The fellow wearing the yellow Gore-Tex and carrying his skis, trying to catch up with his friends.
`` It is essential that you all descend together and are roped together alpine style...''
The message then goes on to tell us that we must follow the wands instead of old step prints on the snow, and it is important not to stray off. And then it apologizes for rummaging through my belongings to find the only pen and paper in camp, and the bad writing and spelling due to altitude. It was Jon Otto who left this message on my sleeping bag. He evidently had come all the way up here from Camp II while we were climbing to the summit, to leave us the message and to accompany Clint down, presumably so that Clint would not have to down-climb to Camp II by himself, risking a crevasse fall. The inability to communicate by radio from the lower camps to Camp III had forced Jon to make the arduous climb back up to Camp III, only two days after summitting himself, so that he could warn us. They clearly are taking this situation very seriously.
I shout out to the other tents and read Patricia, Kaji, and Phurba the message. We fall into a stunned silence. ``Disappeared,'' the note says. What does that mean? I try to put a brave face on the situation and tell Patricia: ``Perhaps he fell in, and was rescued; and `disappeared' just means that he fell in completely....'' But I knew Kurt was dead. That is what ``disappeared'' means in the mountains.
Now we are sort of glad that we did not rush off to Camp II earlier. Kaji tells us that we don't really have a climbing rope, but just 40m of 4mm rope, a very light rope that is used for fixing easy grounds, totally unsuitable for glacier travel (which requires a minimum of a 7mm rope to be considered marginally adequate to hold a free fall into a crevasse). Moreover, we have no climbing equipment -- neither carabiners nor climbing harnesses -- thinking that the steep parts are behind us we had left these behind in Camp II or even at Basecamp to cut the weight. So, the best we can do is to rig up a tie-in into a slender rope and hope that it will hold if one of us falls through.
Whatever relief we had felt upon reaching the summit has now dissipated. Sitting in the falling darkness at 6900m, the snow is falling harder and harder, the wind is howling, someone has died, and we don't have the right equipment to avoid the possible danger that separates us from the safety of the lower camps. But then the mind is too feeble up here to worry too much.
Meanwhile, I have a more immediate problem to amuse myself with. The broken zipper on my Bibler tent door is getting worse, now leaving a half-metre opening. The Bibler tent is one of these new high-tech single-layer tents, and has no fly or vestibule, and so the broken door exposes the inside to the elements. Snow has been piling up at the foot of my sleeping bag. It is cold enough inside so that the snow does not melt anyway. I tie my gaiters and gloves at the opening of the door to slow down the accumulation of snow at my feet, and settle in to try to sleep. I am not particular worried; there is plenty of free tent space up here, but moving seems to be too much work for me to contemplate.

Day 18, August 6, To Basecamp
The night went by fitfully. I could feel the weight of snow on my tent. At first light, I peer out the gaping gap on my tent door to find that a couple of feet of snow had fallen overnight, and it is still blowing horizontal out there. The snow has piled almost halfway up on the downhill side of the tent and practically buried the uphill side. I quickly snuggle back into the warmth of my sleeping bag.
Nine a.m., and still no one has stirred. Patricia calls from her tent ``Howard, what should we do?''
I answer `` I don't know, may be it will let up later....''
The Sherpas do not say anything. Without their initiative, neither Patricia nor I want to move from our sleeping bags.
The snow continues to come down hard and the wind does not let up. We lie in our own silence, inactive. Maybe a fourth night at 6900m? We have fuel, we have food. But the latter hardly matters, we are barely eating. And that is the problem -- without refueling ourselves properly, the longer we stay, the weaker we will get. And the thought of a multi-day storm begins to seep into my mind. One day? Two days? Three? All possible. Maybe we should brave the storm and make a dash for it...
The hours tick by. Then around 11:30a.m., Phurba calls acrossed the tents: ``I think we should go. Lets get ready and leave in an hour. Howard, Patricia? Is that okay?''
Someone has finally taken a decision and in one hour, we summon the energy to boil snow, pack, try to have some food, and dress. It is almost too much to deal with. But a bit after 12:30 p.m., we are in the process of finally getting out of our tents and strapping ourselves into our boots and snowshoes.
Kaji takes out his 4mm rope and we try to arrange ourselves as a rope team. It is almost comical to try to use that little rope -- everything that we have been taught not to do in the mountains. Kaji, who is to go first, the most dangerous position, ties himself directly onto the rope; but the rest of us have only enough rope to tie in through the belt loop of our backpacks. I tie in on the last position. The rope is almost completely psychological -- it will not hold on any clean fall into a crevasse.
In the blowing blizzard we start down. I can barely see Kaji at the head of the rope. He has to stop often to wait for the cloud to clear to look for the next wand that marks what is supposed to be the safe route. A few minutes into the descent, I realize I am in for a very strenuous time. The new, deep, powdery snow has made walking, even with snowshoes, a struggle. Now my lack of ski poles is becoming a serious problem. In the deep snow, my ice axe is totally useless as a balancing tool. The combination of the terrain, wind, tiredness, and the tug of the rope by my mates make me stumble and slip often. And occasionally I simply sink up to my thighs. At these altitudes, once one is down, even if on a sitting position, getting up again becomes a battle, one that I have to wage continuously. I would gasp for breath, and then try to get up after collecting myself and summoning the will power. The lack of ski poles gives me almost nothing to push on to get myself back on my snowshoes. The body simply wants to stay in the sitting position.
The blizzard continues, and I have gotten myself into a vicious circle. By falling, I tire myself out much faster. Being tired, I become slower than my rope mates. Being slow, I am dragged on the rope whenever I am not able to keep up. And being dragged makes me fall. I become exhausted very quickly and feel the situation becoming untenable. I begin to feel that the only way out is to unrope and go down at my own pace. I yell out to Kaji that I cannot go on this way and want to unrope and go down on my own. Kaji and Phurba adamantly refuse to let me do that, saying that there is not only the crevasse danger, the blowing whiteout blizzard may simply separate us if I were to unrope. A deadly possibility.
I stumble on like someone who has little or no motor control. I am not able to believe how difficult and exhausting this has become, much more so than any part of the uphill climb so far, even when I was at 7500m. And I know, this will be yet another day that my limit of endurance will be tested. The blowing storm now hardly registers in my mind, which is totally occupied with the physical unpleasantness of the descent.
It had taken us nine hours to climb from Camp II to Camp III, the longest stretch between any two camps. I begin to wonder how long this nightmare of a treadmill, going the other way, will go on. And on it goes. Eventually thinking that it might speed things up Phurba volunteers one of his ski poles to me, taking my ice axe in exchange and offers to carry my backpack. Soon after that, we pass through the spot where the New Zealanders had lunch, and presumably near where Kurt fell. Camp II is now in sight, three little yellow dots way below on a snow ledge.
We get into Camp II at about 4p.m. I am astonished to see that Dahu is still in a tent up here. He has never left, and is planning to spend his fifth night here. He sticks his head out of his tent and points up hill and says very matter-of-factly: ``Some guy died up there, just there...'' Disappeared did mean dead.
I ask him what is he doing there -- may be he should come down with us. He doesn't say anything. I am not sure if his mind is all there -- he is simply staying put; no one to tell him to go down, and no one to tell him to go up.
After a very short rest we continue down. Below Camp II, the weather improves. It seems that the snow storm has mostly confined itself to the higher reach of the mountain, and there is much less new snow from here on. We down-climb unroped, and follow the established path as closely as we can. Jon and Dan have set up more fixed ropes on the slope below Camp II, near the place where I had sunk into the lip of a crevasse last time. I continue to be slow. They wait for me at the headwall of the icefall where we switch from snowshoes to crampons. I am falling farther and farther behind, but the weather is relatively clear on this part of the mountain, and I am able to keep them in sight way below me.
On the snow slope just above Camp I, I see someone coming up. It is Richard, the Californian snowboarder. He looks incredibly tired as he struggles up, but then I am sure I look even more so. He didn't make the peak on his first bid, and is now going back up to Camp II to position himself for one more try; or, at the least, to retrieve his snowboard from Camp III. I wish him luck, but know he has little chance; especially since Dahu cannot possibly be much of a support for his attempt, and going up solo in such foul weather is simply not to be taken lightly, even if he somehow manages to find the energy.
Camp I, at 5400m, now feels like sea level. I can get some semblance of oxygen into my brain again. And being on solid ground once more after 5 days, at last I am able to tell myself: the climb is over -- I just have to slide and slip down the trail to Basecamp. Camp I is now a booming tent city. The large Japanese expedition, the Spanish expedition, they are all there. Kaji opens a can of fruit cocktail, heats it and shares it with Patricia and me. I greedily drink up the sugary syrup, the only real food I have had since the granola bar at Camp III at noon.
More repacking. I want to leave most of my gear at Camp I and make a fast run for Basecamp with as light a pack as possible. But I have become so tired that the task of packing occurs in an almost slow-motion pace. I tear my crampons and double boots off, and eagerly put on my light hikers. The sun is low in the western sky by the time I start down the boulder field, well behind the other three.
Being in a much more hospitable environment, with the solid earth beneath my feet, a steady flow of oxygen to the lungs, and friendlier weather elements, the body becomes much more aware of the punishment it has taken in the last few days. My feet are bruised from days of wearing double boots and crampons, and now the constant braking with only light hiking boots on the steep rocky trail becomes a painful chore. I realize my lips and face have been terribly sun and wind burnt; and sometime in the last day or two, I have injured a rib bone probably from coughing so hard.
The sun sets. The sky quickly turns milky gray and then dark navy blue. I skip and hop across the stream in front of the mess tent just before it becomes completely dark. In eight hours, we have descended 2600m (8500 ft) through a blowing snowstorm and snow-covered crevasse fields.
I step through the door of the candle-lit mess tent. The adrenalin finally drains completely out of my body; I am too tired to even take my pack off as I stand there. Dan, Derek, and a number of others are sitting around the dining table, having just finished their evening meal. Derek comes up and congratulates me, takes my pack off, sits me down, and pours me a cup of lukewarm tea.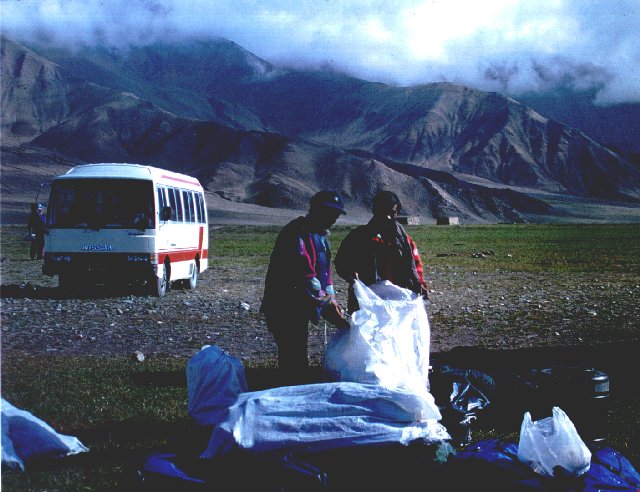 Phurba and Kaji packing the expedition gear after retuning to the green pastures of Subax at the end of the climb.
..................
Homeward Bound
Basecamp was rather deserted. Most members of our expedition, those who made the peak with the first two teams, and those who did not make the higher camps, had gone to Kashgar, the greatest bazaar town on the Silk Road, about 200km north of here. I had visited that fabled city 12 years ago, and had no desire to see the modern version of it. Other expeditions were mostly at Camp I. I spent the next three days mostly inactive, waiting for the body to recover, and the weather to improve, in order to get back up to Camp I to retrieve my remaining gear. The upper part of the mountain continued to be under huge black clouds, and fierce scattered thunder and rain storms hit Basecamp daily. I was glad that we made the decision to brave the storm to descend.
I asked Derek for his pocket mirror, ostensibly to shave, and was shocked to see what my face looked like -- my lips and cheeks were badly swollen, which explained why I was having problems eating at Basecamp, or even speaking. The part of my face that was not covered was practically black from wind and sun burnt. It was as if someone had punched my face repeatedly.
The Adventure Consultants expedition's tents were already gone from Basecamp. I had a chance to talk to others about the New Zealander's fatal accident. And indeed, Kurt fell into a crevasse shortly after they left the lunch spot above Camp II. Kurt had been having problems with his skis, and decided not to use them. It appeared that he might have wandered off the established path a bit, and fallen through in a place that was not obvious that there was a crevasse. It took Guy Cotter about an hour to rig up a rappel into the narrow crevasse. He found that Kurt had fallen about a whole rope length: 40m, and head first, still wedged upside down where the crevasse narrowed. It was clear that there was nothing to be done. There were so many ifs. If he had been on skis... if he hadn't walked over there... And two days after, the remaining three members of the expedition pulled up their tents and left, and everything on the mountain remained the same. It all had this air of unreality. It was as if nothing had happened. The mountain remains indifferent.
But climbers tend to have this obsession about death on the mountain, and a macabre sense of humour. We talked about this around dinner table, and already deemed it to be in the distant enough past that we even made jokes about it. We wondered about the survivability of Adventure Consultants, having a fatality so soon again after 1996. We also conjectured why crevasse danger on this mountain has been down-played so much, and predicted that this death would do nothing to change how other expeditions would travel on this mountain. Muztagh Ata has always been touted as the highest (easily) skiable mountain in the world. That is how both the Chinese Mountaineering Association and the Western guide companies want to sell this mountain. Crevasse hazard would detract too much from this image, as to ski while roped is hardly an attractive feature. And in any case, traveling without a rope team gives so much more freedom.
Richard never made it above Camp II, and he struck a deal with Kaji and Phurba to carry down his snowboard. The Nepali had to go all the way back up to Camp III to bring down the rest of the equipment in any case. I did the grueling climb back up to Camp I on the third day, the last possible one, to bring my own gear back down, something my body was barely able to accomplish. Dahu, as I expected, had stayed on in Camp II, for whatever unfathomable reasons, until the last day, before coming back down. The camels came on the fourth day, and the expedition regrouped and started the long overland journey back to Islamabad.
The trip back to Pakistan was in itself an epic. The locals have been telling us that this summer had the wettest weather they have seen in many years, perhaps the lingering effects of El Nino. There were rumours that the Karakoram Highway was washed out, a very rare occurrence in the summer. And indeed, 30 km into Pakistan, high on the mountain, we found ourselves faced with the complete destruction of over a kilometer of the highway, forcing us in falling darkness to ferry our expedition loads across the landslide, detouring high on an impromptu foot path above a cliff. Further down the KKH, north of Gilgit, we ran into a local inter-tribal dispute (ironically, precipitated by trade disagreements arising from the washed-out highway), and found the highway blockaded by a group of gun-wielding men. We, along with a dozen other vehicles, spent a whole day stuck under the hot dry sun, ``guarded'' by the protesters, not able to go forward or retrace our steps, hearing rumours about deadlock negotiations, planned army/police assault, potential hostage taking, and so on. And we were finally let passed just before midnight, after we had already settled into our sleeping bags to spend the night on the pavement literally in the middle of the Karakoram Highway.
Pulling into Gilgit at 3a.m. in the morning, we also confirmed another rumour we had been hearing that on the day we summited, Ned Gillette, an American Olympic skier, who ironically led the first Western and ski ascent of Muztagh Ata, which resulted in Galen Rowell's book and making this mountain a popular goal, was killed by bandits while camping with his wife in the mountains not far from Gilgit.
Finally on August 18, I found myself cozily esconced (by luck) in a first-class seat on a British Airway flight. As the plane rose steeply north from the dusty plain to cross the Karakoram, the Hindu Kush, and the Pamirs, I was transfixed by the range after range of snowy high mountains reflecting the golden early morning light.
So close, I can almost touch them.



******************************