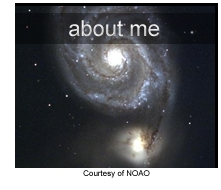 I have been on the faculty of the Department since 1966, conducting research and teaching both undergraduate and graduate courses. During this time I have supervised nearly thirty graduate students and nine post-doctoral fellows in the field of radio astronomy. My research is supported by a grant from the Natural Sciences and Engineering Research Council of Canada (NSERC). Such grants are awarded for a four year cycle and afford a measure of stability for planning long term research programs.

In addition to my current research interests, primarily in the area of the ISM in active star forming galaxies, I have over the years performed research in the radio emitting properties of stars, notably in symbiotic stars and active binaries such as SS 433. One of my post-doctoral fellows and I discovered radio emission from the jets in SS 433 in 1980. I also maintain a current interest in the history and philosophy of science, and currently teach a first year undergraduate seminar course in the subject. I am also interested in radiative processes in astrophysics and teach a graduate course in this area.

I enjoy participation in issues affecting Canadian astronomy, and have served on many committees, including a term as President of the Canadian Astronomical Society. I have also served two terms as Chair of our Department, as well as on numerous NSERC grant committees.

My non-science interests include painting (oils and water colours) though I haven't done much of this in recent years. I also enjoy collecting assorted antiques.